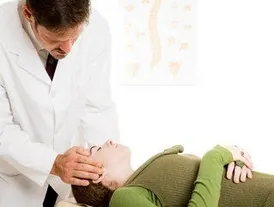 Adjustments, or manipulation as they're sometimes referred to is the minor movement of vertebrae in the spine. The objective of this movement is to realign vertebrae that have moved out of place for a number of reasons ranging from simple nutritional deficiencies or normal daily activity to trauma such as a car accident.

When these vertebrae are out of place, it has an overall systemic effect on the body, from muscular to the central nervous system. Without proper alignment, the nerves and systems in the body do not function at their peak.  In order for optimal performance there needs to be a clear pathway from the brain to all areas of the body via the nervous system.

An adjustment is often a pressure from the chiropractor utilizing the hands or an instrument to move a vertebrae back into place. This happens with a quick movement utilizing a  light thumb thrust adjustment or gentle spring instrument and is often without discomfort. Therefore no strenuos manipulation, twisting or popping is needed, which works wounderfull for all age's, new borns to elderly.  Overall, adjustments are an excellent way to keep the body functioning at its highest level. When the body is in alignment, the body is able to respond and perform as it was designed to.